Something has moved into the compost bin. I cleaned out the the flower beds this weekend and trimmed the bushes. We added all of that to the compost and now someone has taken up residence.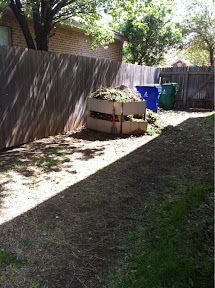 I wonder who our new neighbors are. I sure hope they aren't trouble makers. Maybe they'll keep the snake that I spotted there a few months ago out of the compost so I wont scream like a girl again. But who knows, the new neighbors may be even more scary than the snake.
Hole Number One - both holes are four inches or so in diameter.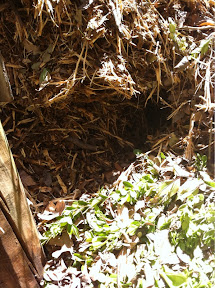 Hole Number Two
Re-working the compost bin is on the Michael and Rehm's to-do list. This one was built ten years ago - on the weekend prior to Rehm's birth. we used all leftover supplies to build it. The builder was nice enough to leave a few fence posts when the house was built and the siding was leftover from building the dog house.
I won't be helping with the new compost bin as long as there are neighbors in residence.
Jenn - Posted from my iPhone